Our Community
In the Heart of North Central West Virginia

Marion County, West Virginia
Marion County is in the heart of North Central West Virginia - a thriving region for business, industry, and education. Marion County offers the attributes of a smaller, connected community with easy access to some of the nation's largest metropolitan areas. We invite you to explore Marion County and see what we have to offer.
Demographics
Population 56,446

Educational Attainment: 31% of the population in Marion County have an Associate's Degree or higher

Labor Force: 25,814

Unemployment Rate: 6%

Median Household Income: $54,101

Median Age: 40

Major Industries: Energy, Healthcare

Cost of Living: 12% below the national average

Median Property Value: $90,600

Average Commute Time: 25 minutes

Higher Education: Marion County is home to Fairmont State University and Pierpont Community & Technical College
Marion County's Advantages
1. Dynamic Region
THE REAL STORY ABOUT MARION COUNTY is its location in the heart of the I-79 Corridor. Known for its high-tech companies, higher education institutions, dynamic health care systems, and robust transportation network, North Central West Virginia is one of the state's leading growth areas.
Within a 40-mile radius:
Population: 452,613

Median Age: 40.4

Average Household Income: $71,948

Labor Force: 202,547

Annual College Graduates: 9,637

Educational Attainment: 32% of the population has an Associate's Degree or higher

Higher Education: Fairmont State University, Pierpont Community & Technical College, West Virginia University, Salem University, Alderson Broaddus University, West Virginia Wesleyan College, Davis & Elkins College, and Waynesburg University.
2. Cost of Doing Business
West Virginia's cost of doing business is among the lowest in the country. The state ranked #10 for the best business climate in Business Facilities 2021 State Rankings Report.
Consider these factors for West Virginia's business environment
WV ranks in the top 10 of state GDP Growth (7.3%), the highest in the Southeast and Mid Atlantic

Unemployment Rate of 4.6%, 10% better than the national average

FY 2021 revenue surplus of $413 million

YTD FY 2022 revenue surplus of $700 million

Rainy Day Fund exceeds $1 billion

Balanced budget without any tax increases for 5 consecutive years

Ranked in the Top 10 states for business climate by Site Selection Magazine
3. Transportation & Location
Speed to market and accessibility is critical to business success. Marion County sits in the heart of North Central West Virginia's High Tech Corridor. I-79 provides ground connectivity to all major cities.
Marion County is within one day's drive of 50% of the U.S. population and a third of Canada's. Businesses here enjoy a lower cost of business while having strategic access to major markets:
Marion County is served by two regional airports.
The North Central West Virginia Airport (CKB) is located in Bridgeport, West Virginia. The airport offers less than daily service to Orlando/Sanford, FL as well as seasonal service to Myrtle Beach, SC and Destin-Fort Walton Beach, FL, and daily flights to Chicago O'Hare (ORD) and Washington Dulles (IAD).
Morgantown Municipal Airport (MGW) offers round-trip flights daily to Washington Dulles Airport (IAD) and Pittsburgh International Airport (PIT).
Rail
CSX provides rail service in Marion County.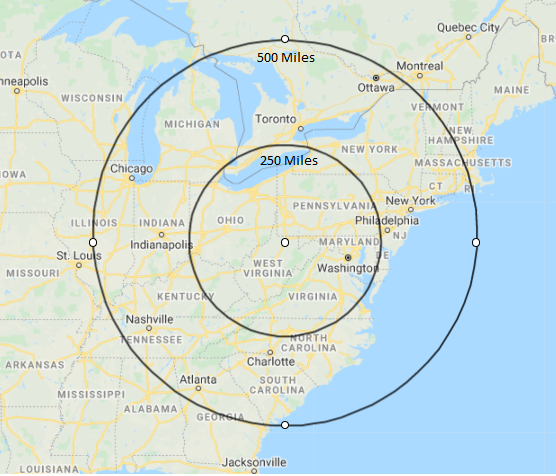 4. Higher Education
Fairmont State University is a comprehensive, student-centered, state-supported institution offering dozens of certificate and degree programs at the associate, bachelor, and master levels via 41-degree programs and over 90 fields of study. It has regional campuses in nearby Harrison County, the Gaston Caperton Center in Clarksburg, and the Robert C. Byrd National Aerospace Education Center in Bridgeport. For more information: www.fairmontstate.edu/
Pierpont Community and Technical College (Pierpont) is a public community college in Fairmont. Founded in 1974, it has the second-largest enrollment of the 10 Community and Technical Colleges that make up the West Virginia Community and Technical College System. The college serves 13 counties in North Central West Virginia with classes offered at more than 15 locations throughout the region. With an enrollment of more than 3,000, Pierpont offers more than 40 associate degree programs, skill sets, and one-year certificates. It specializes in preparing students in two years or less for practical hands-on careers and provides non-credit enrichment courses for individuals and customized workplace training for local employers.
For more information: www.pierpont.edu/
5. Outstanding Healthcare
West Virginia University Medicine is expanding and growing the Fairmont campus and hospital. The approximately $110 million, multi-phase plan includes patient care expansion that will bring the total number of inpatient beds up to 80 from its current 42, adding 30 skilled nursing beds, renovating the operating rooms and procedure rooms, and adding to the outpatient imaging, laboratory, and infusion services already offered onsite.
Mon Health Marion Neighborhood Hospital has just opened its $20 million, 19,000 square foot facility, which will have 10 emergency beds, 10 inpatient beds. The hospital offers inpatient and outpatient services, diagnostic imaging and lab services, and full-service emergency services.
Within about 20 miles of Marion County, there are four additional major hospitals:
6. Low Cost of Living
Marion County's and West Virginia's cost of living is 12% lower than the national average. The median list price for a home in West Virginia is $97,000, compared to $181,000 nationally. The state's electricity costs, on average, are about one-third lower than the rest of the US, and overall utility costs, including natural gas, telephone, and water services, are about seven percent cheaper.
7. Low-Cost Utilities
Industrial electrical rates ranked 5th lowest, commercial electrical rates ranked 10th lowest, and overall electrical rates ranked 5th lowest in the nation. Abundant natural gas and water supplies are available.
8. I-79 Technology Park
A premier business location, the I-79 Technology Park is a 400-acre site that's home to several Federal operations including the National Oceanic and Atmospheric Administration, U.S. Department of Commerce, National Aeronautics and Space Administration, and the Federal Bureau of Investigation. The Park is also home to more than 30 businesses with approximately 1,000 employees. These businesses include General Dynamics, Electronic Warfare Associates, Inc., FirstEnergy Corp., Leidos, ManTech International Corporation, Northrop Grumman, Spectrum, GST, Healthcare Management Solutions LLC, and the National White Collar Crime Center.
The I-79 Technology Park is also home to the West Virginia Community and Technical College System's North Central Advanced Technology Center and Pierpont Community & Technical College, which brings a valuable academic component to the I-79 Technology Park community.
The Park features unparalleled electrical and data infrastructure.
9. Marion Remote
An initiative to attract remote workers to Marion County from all over the country, the program is a collaboration between the City of Fairmont, County Commission, Convention & Visitors Center, HIgh Technology Park, and other entities. More info.
10. Quality of Life
Marion County offers a true mix of a small-town lifestyle with the amenities of much larger metro areas. The county's population is 56,000, but the region's is more than 450,000. Friendly people, beautiful scenery, low cost of living, abundant recreation opportunities coupled with excellent healthcare and education, Marion County sits in the heart of a dynamic region.
For more information on Marion County